Services
Ground handling services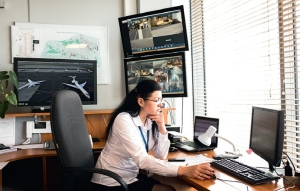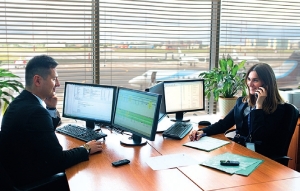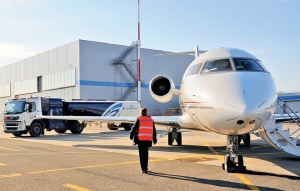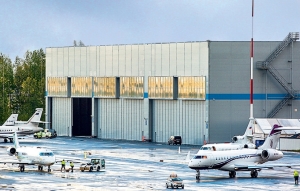 JetPort SPb provides ground handling services for business flights managed by Russian and foreign airlines at Pulkovo airport. By addressing JetPort SPb, clients will be provided with full services. JetPort SPb acts in compliance with certificates on "Organizational Support of Commercial Air Traffic", on "Provision of Services at the Pulkovo Airport for Passengers and Baggage on Domestic and International Flights" and on "Ground Handling Support at the Pulkovo Airport". Upon request, JetPort SPb will ensure a variety of services at the highest professional level:
ground handling services for any type of aircraft;
slot coordination;
pre-flight information;
aircraft refueling;
apron transportation;
transfer to/from the city;
hotel reservations in the best Saint-Petersburg hotels;
crew visa support;
and many other services upon client's request.
Ramp services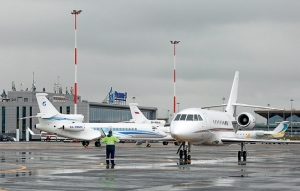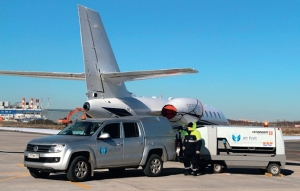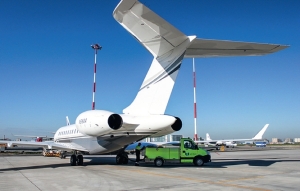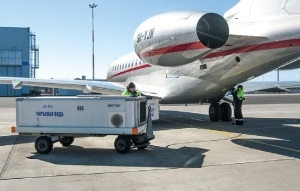 Ramp services are the fastest growing division of JetPort SPb. A company-owned ramp services allow JetPort SPb to provide twenty-four-hour highly professional ground handling services for business jets. Ramp services include:
preparing for and receiving aircraft at parking places;
towing;
cabin cleaning;
water supply services;
lavatory service;
GPU;
de-icing;
heating for the cockpit and cabin;
and other services.
Pulkovo-3 passenger terminal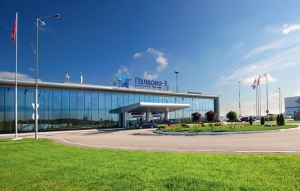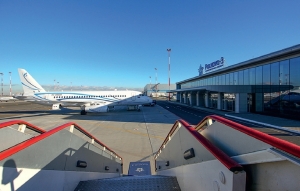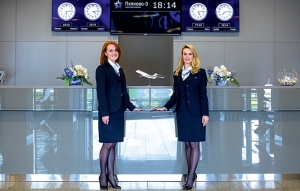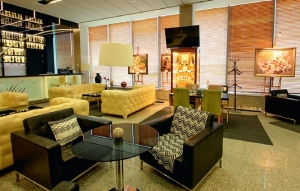 Pulkovo-3 passenger terminal of ered a new period for business flights in Saint-Petersburg. The surface area of the terminal is 4,000 sq. m. The ground f oor area will serve up to 1,500 passengers per day.
Pulkovo-3 passenger terminal is equipped with all the essential means and facilities to provide services to business f ight passengers. The terminal complies with the highest standards and can fully meet all the needs of customers, providing services at the highest level.
Passengers flying on both domestic and international flights may be serviced on the first floor of the terminal. Passenger services include all essential means, namely:
check-in for international and domestic flights;
comfortable arrival and departure zones with views on the apron;
convenient pre-flight security and customs control;
Duty Free;
meeting rooms;
exclusive bar service;
Wi-Fi;
and many other services upon request.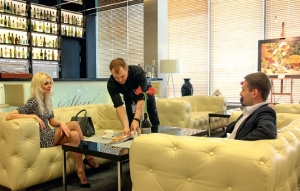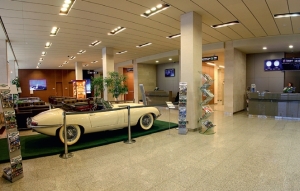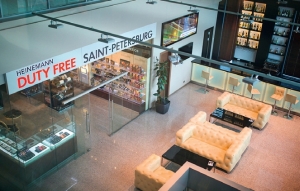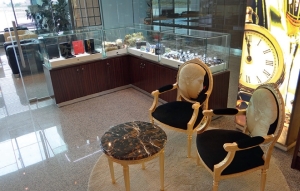 The first floor houses office premises of the Center for Business Aviation Pulkovo-3 management, Operations and other various services and tenants.
The main asset of the Center for Business Aviation Pulkovo-3 is its professional staf members, who continue to develop their skills and expand the list of services to meet the wishes of business flight passengers.
The unique interior of Pulkovo-3 terminal, maximum comfort, calm, and high-quality services all ensure that you will return here time and time again.
Meeting rooms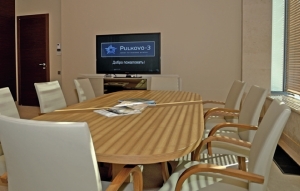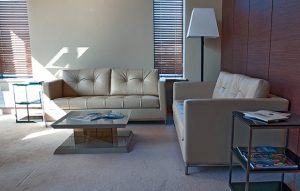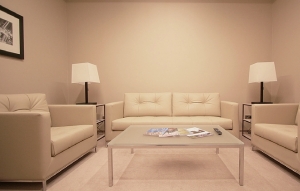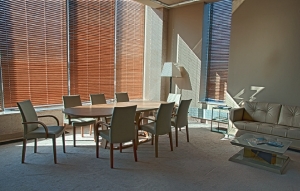 Pulkovo-3 terminal should be your choice, if you value every minute of your time. You may conduct a meeting in comfortable meeting rooms, outfitted with all the required equipment. The meeting rooms combine the flair of contemporary European style and the individuality of global leading brands, as well as modern equipment. Services for organizing meetings will be designed in accordance with all your wishes.
During your meeting, we will be pleased to provide you with an exclusive menu from our partner – the leading restaurant holding, Saint-Petersburg Ginza Project.
Motorpool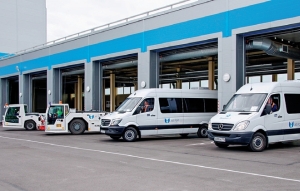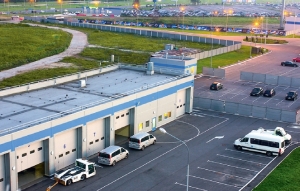 The main objective of the special transport service is the smooth and comfortable service for passengers and crews. The company motorpool consists of new cars of various models and types automobile manufacturers. Each car is specially converted and designed for specific purposes and use.
All our drivers go through regular driving courses for vehicles on aprons. Each vehicle is examined by a qualified mechanic twice a day, while the driver undergoes a medical examination.
Security services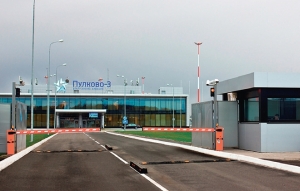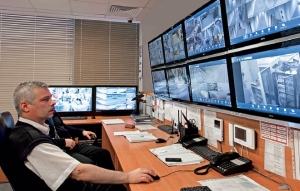 Whole territory of the Center for Business Aviation Pulkovo-3 is carefully monitored by own security service 24/7. You can't pass to the territory of the Center for Business Aviation Pulkovo-3 without prior permission. In their professional activity the security service uses the most modern technical means of security: video surveillance systems, access control, security alarm system and much more.
Security is one of the most important targets of the Center for Business Aviation Pulkovo-3.
Aerodrome service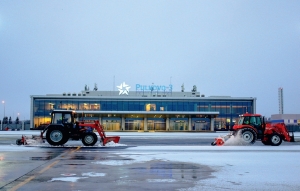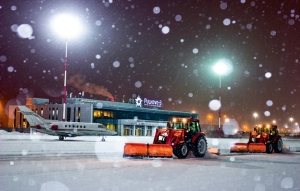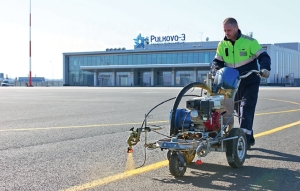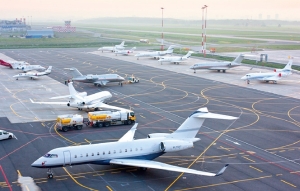 There is its own aerodrome service in JetPort SPb company's structure which consists of highly qualified specialists who can promptly prepare the surface of the apron for accommodation of an aircraft at any time and in all weather conditions.
To ensure safe taxing on the apron aerodrome service provides following maintenance and repair activities:
daily examination and structural integrity inspection of the apron;
full technical service of airport vehicles and special equipment;
de-/anti-icing processing of the apron during autumn/winter period;
apron markings renovation during summer period;
staff theoretical education and practical training with the main emphasis on peculiarities of work on the apron during autumn/winter period.
The hangar complex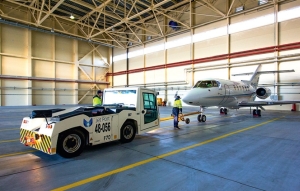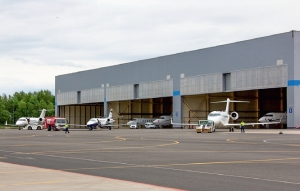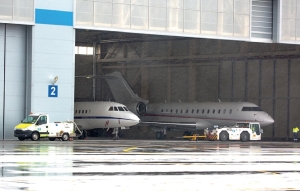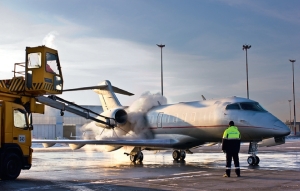 The hangar complex consists of 3 sections with the area of 2,500 sq. m. each. Each section can hold one Boeing 737-900, А321 or five Challenger 605. The hangar has been designed for the storage and maintenance of virtually all modern types of business jets. High-quality steel structures of this building protect aircraft from the cold in winter and from direct sunlight in summer, and enable our employees to service and carry out required work operations in comfort, regardless of the time of the year and weather conditions.
Benefits of storing aircraft in the hangar:
higher level of safety;
higher residual value of the aircraft at sale;
life extension of aircraft;
no need for de-icing aircraft in winter.
Long term parking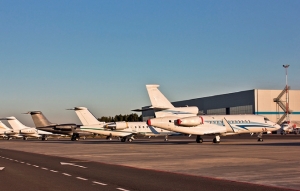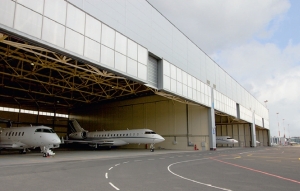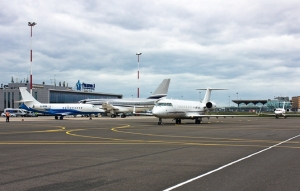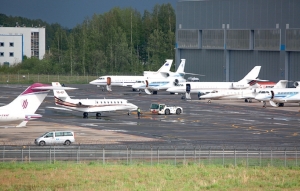 Center for Business Aviation Pulkovo-3 is oriented towards providing complex services. Ensuring parking places for aircraft constitutes one of the most important services of the Center for Business Aviation Pulkovo-3. The total area of the apron more than 63 000 sq. m.
Currently, the apron is able to receive up to 28 aircraft at a time. Commissioning of the hangar complex has allowed to provide clients services for storage of aircraft in the hangar, and will increase the number of concurrently serviced aircraft to 47. The apron and hangar will service almost any types of business aircraft including A320 and BBJ3.
Marketing opportunities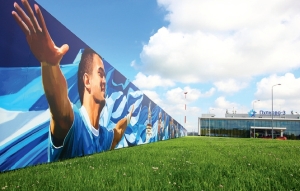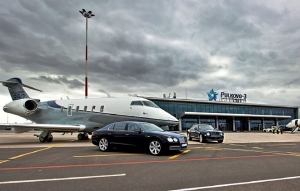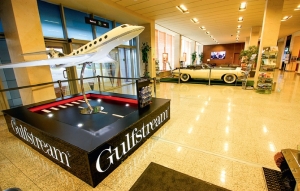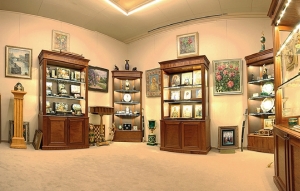 The Center for Business Aviation Pulkovo-3 is the only center in Saint Petersburg that provides comprehensive services for business aviation aircraft. This is one of the few places in the city where some of the most successful people, who require a high quality lifestyle, spend their time.
Promoting Premium Class products and services at the Center for Business Aviation Pulkovo-3 constitute a convenient and ef ective way to inform the target audience and maintain a favorable company image. Promoting Premium Class products and services at the Center for Business Aviation Pulkovo-3, as an image of the actual "platform", points to the status of the company and the stability of its business and status.
We invite you to consider a mutually benef cial cooperation for the promotion of your company at the Center for Business Aviation Pulkovo-3:
lightboxes;
TV advertising;
exhibition of automobiles, yachts, helicopters;
branding of premises;
original projects for promotion campaigns.
The Center for Business Aviation Pulkovo-3 can be used to present aviation technology, as well as other goods and services not related to the aviation field.
For more detailed information about terms and conditions of cooperation, please contact the Aero Marketing Services Group, General Representative in Saint Petersburg, Tel.: +7 921 949 21 18 / tsutskarev@amsgroup.ru.